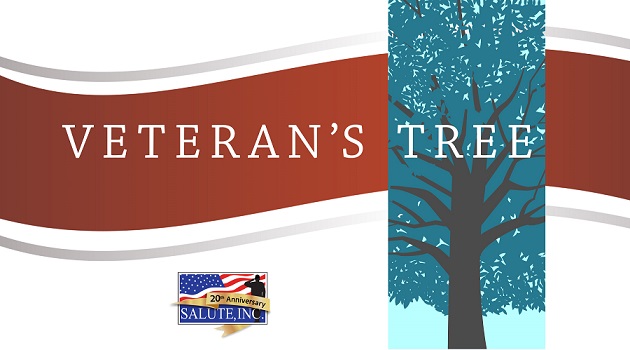 Close to 40 people gathered at the library and lent a loving hand on Wednesday, November 1, to help debut the Veteran's Tree, a community-created exhibit  at the Arlington Heights Memorial Library, that celebrates Arlington Heights' Veterans and their families. Participants of all ages worked together side-by-side throughout the evening to make ornaments that they then personally placed on the Veteran's Tree to honor a Veteran in their lives.
The ornaments feature photographs, hand-written sentiments and details about their or a loved one's service. Similar to a living tree season to season, the Veteran's Tree will continually change and grow throughout the month of November as more ornaments are added to the tree by residents and members of the community.
Stop by often and view the growing collection of handmade mementos created by local residents and families to honor those that served in our nation's Military and perhaps even add one of our own (see details below). 
The Veteran's Tree was organized in partnership with SALUTE, INC., a local nonprofit providing for the financial, physical, and emotional needs of injured military service members, Veterans and their families. 
The Veteran's Tree will be on display November 1-27 on the first floor of the library. 
Want to create an ornament of your own for the Veteran's Tree?
1. Email programs@ahml.info for instructions and supplies.
2. Attend our next tree decorating event on Sunday afternoon, November 12: 
Arlingtones Performance and Veterans Day Reception
Sunday, November 12, 2-4 p.m. / Hendrickson Room / Register
Honor Veterans Day with a patriotic performance by Arlington Heights' Arlingtones. Veterans and their guests are invited to stay after the performance for a reception with refreshments in the Hendrickson Room and to decorate our Veteran's Tree on the first floor. Register with up to one guest.
Art supplies will be provided by the library. We advise photos be 3x5 inches or smaller and do not exceed 4x6 inches. Scanning and printing will be available if you do not have a copy of a photo ready.
More Veteran-related programs in November:
Wider Lens: Debt of Honor: Disabled Veterans in American History
Tuesday, November 7, 7-8:30 p.m. / Hendrickson Room / Register
Join us for a screening of Debt of Honor: Disabled Veterans in American History - a moving tribute to the history of disabled Veterans, Debt of Honor takes an unflinching look at the reality of warfare and disability, featuring interviews with some of the country's most prominent disabled Veterans. Screening will be followed by a discussion.
The Generals: Patton, Rommel and Montgomery
Friday, November 10, 1:30-2:30 p.m. / Hendrickson Room / Register
Join Robert Mueller as he contrasts and compares the personalities tactics and leadership styles of George Patton, Erwin Rommel and Bernard Montgomery. These three men stamped their images upon events during the Second World War like no others. Each led their country's armed forces to historic battlefield victories and two met inglorious ends.