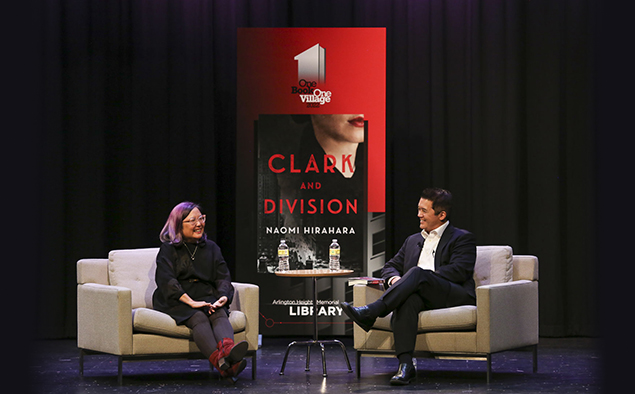 For the first time since 2019, the signature event for the library's annual One Book, One Village (OBOV) community read, an evening of conversation with the featured book's author, took place in person and the highly anticipated return did not disappoint!!
More than 270 filled Forest View Auditorium on Thursday, October 27 to hear author Naomi Hirahara delve into this year's OBOV title, Clark and Division, a gripping mystery of one Japanese American family's search for truth in 1940s Chicago. More than 110 people also tuned into the library's YouTube channel and watched as the event unfolded live beginning at 7 p.m. This simultaneous livestream of an author event on YouTube was a first for the Arlington Heights Memorial Library and its community read, now in its ninth year.    
"I've been so happy to see the programming [and to be] able to follow along. I like how the Japanese speaking population has kind of been pulled into this whole program and that there's been connections," Hirahara said as she reflected on Clark and Division being chosen as this year's OBOV selection. "You have such a wonderful library; this is a very special place and I'm just so happy Clark and Division can play a role in creating conversations and relationships between people. Especially right now, people need it." 
Hirahara, an Edgar Award-winning author, was joined on stage by Erik Matsunaga, an author and historian of Chicago's Japanese American community. The evening began with Hirahara asking how many attendees had "a relative, however distantly related, that is part of this diaspora from [internment] camp to Chicago," with many raising their hands in response.  
As the conversation continued, Hirahara discussed how her work on the nonfiction book Life After Manzanar and additional research inspired her to choose Chicago as the location for Clark and Division. She provided details about her research, such as how she came across a report from the Chicago Resettlers Committee that had talked about growing concerns over juvenile delinquency. The report featured a list of infractions, many of which she included in Clark and Division. 
"People didn't talk directly about the mishaps or a lot of the kind of delinquency that people were involved in. They kind of talked around it," she said. "This is where a mystery writer comes in and imagines what happened. I was there to kind of fill in the blanks." 
She also credited Matsunaga's research and how he helped give shape to the story of Clark and Division by taking her on a walking tour of the city. During the lively 45-minute conversation, Hirahara and Matsunaga took the audience on an insightful journey covering topics such as the development of Clark and Division, Hirahara and Matsunaga's experiences growing up as Japanese Americans and what kickstarted their research into Japanese American history, and how Hirahara became a writer and her writing process. 
The two also discussed the internment of Japanese Americans during World War II and their subsequent relocation from the camps to cities including Chicago. Chicago's Japanese American population multiplied from just under 400 on the eve of World War II to more than 20,000 by 1946-1947. 
"I feel lucky because I'm an older person now and I often say I wasn't alive to witness it at the time," Hirahara said. "But I was a witness to the witnesses. And that goes for not only what happened here in America but Japan as well." 
Hirahara and Matsunaga's conversation was followed by an audience Q&A with Info Services Advisor Sherri Tader and a book signing. 
Clark and Division was announced as the book for OBOV 2022 at the end of August and since then copies of the book have circulated more than 2,200 times—this is highest circulation of an OBOV title since 2015. Many in attendance had read Clark and Division and the number one question people had during the Q&A was if there would be a sequel to Clark and Division. The answer? 
"In my hotel room I have my laptop, no one come and steal it please," she said. "But I am doing the final rewrite of a book called Evergreen, which is a follow-up to Clark and Division. […] It'll be coming out in August of next year." 
An Evening with Naomi Hirahara was supported, in part, by the Friends of the Library. One Book, One Village 2022 continues through early November. Learn more about OBOV at www.ahml.info/onebook.
A recording of the live program will be available on the library's YouTube channel for two weeks at www.youtube.com/LibVlog. More photos from An Evening with Naomi Hirahara can also be seen on the library's Facebook page.