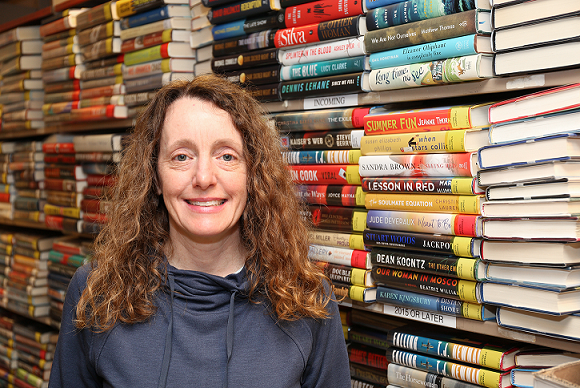 From sponsoring used book sales to maintaining the Friends Book Shop, the Friends of the Library is a nonprofit organization that contributes to the library in so many ways. One Friends of the Library volunteer, Leeanne Smith, has been named as the library's 2021 Volunteer of the Year.
Of the 13,000 hours of volunteer service completed in 2021, 3,850 came from Friends of the Library volunteers such as Smith, who also works full-time as a physical therapist at Northwest Community Hospital.
Smith contributed more than 460 hours of service this past year, and she achieved 15 years of service and 3,000 hours of service milestones as well. She and her husband began volunteering at the Friends of the Library's used book sales when they moved to Arlington Heights from Minnesota, and she has been volunteering at the library ever since, now working as a member of the Friends of the Library book sale committee.
"Besides working the sales, I am involved in the day-to-day activities in our [Friends of the Library] room," Smith said. "I've certainly met a lot of really nice people that I wouldn't have met otherwise."
"[Volunteering is] a wonderful way to connect with your community and give back. Even with our son...he's now in his twenties and he volunteers through the Friends," she continued. "[Volunteering is a] great way for teens to get involved in their community. It's really intergenerational when you look at our mix of volunteers that we have."
Since its inception in 1968, the Friends have provided more than $1.5 million in gifts to the library. In 2021, the Friends raised $41,347.73 from book sale purchases alone.
"There's lot of roles to play in supporting the library and what I've always loved about the Friends is that we take our love for libraries, our love for books, our love for music and movies, and translate that into events that raise money," said Friends of the Library volunteer Allison Anderson, who works closely with Smith on the book sales. "All of the money we raise through our events turn into programs, exhibits and equipment like the Makerplace equipment."
"It's just a pleasure to work with Leeanne," Anderson continued. "She gives so much both to the Friends as well as to the community and to her workplace. It's an honor to know a person like her and work with her."
Volunteer of the Year is a one-time award given to the volunteer who has contributed the greatest number of hours during the previous year and has not yet previously received the award.
Learn more about the Friends of the Library and how you can become a member at ahml.info/friends.