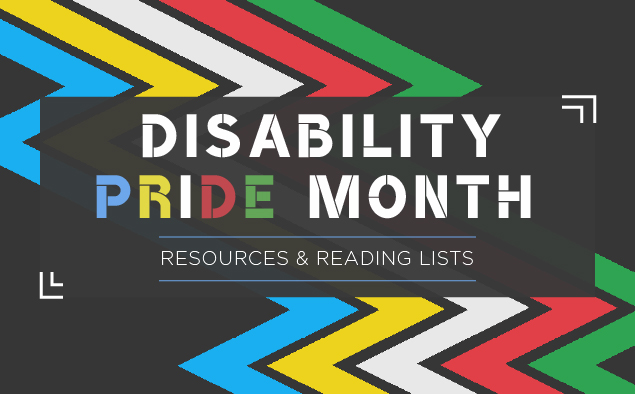 Disability Pride Month is celebrated in July, the month in which the Americans with Disabilities Act was first signed into law in 1990. Through these book selections, we invite you to celebrate and elevate people with disabilities, call for disability justice, and challenge ableism through reading.
Book List: Celebrating Disability Pride (Adults)
Book List: Disability Visibility for Teens
Book List: Diverse Needs Chapter Books for Kids
Book List: Diverse Needs Picture Books for Kids
The Americans with Disabilities Act was signed by President George H.W. Bush on July 26, 1990, a landmark law that prohibited discrimination against people with disabilities. In that same year, Boston held the first Disability Pride Day. The United States first Disability Pride Parade was held in Chicago in 2004. The 18th Annual Disability Pride Parade will be on Saturday July 24th, 2021 and will be a Virtual Celebration of Disability Pride.
The month is a chance to honor each person's uniqueness as "a natural and beautiful part of human diversity," according to America's Disability Community.
Local, state and national resources for ADA and support for people with disabilities:
Arlington Heights Memorial Library Accessibility Services
We provide resources, services and program accommodations that enhance accessibility for all users.
The Village of Arlington Heights Disability Services
Provide community education and training, information and referral, advocacy, and through the provision of technical assistance to citizens, their families, businesses, other agencies and organizations.
Illinois Department of Human Services (IDHS) Bureau of Accessibility & Job Accommodation
Provide timely, accurate information and assistance to support actualization of a goal of self-sufficiency and independence for their clients, consumers and customers.
Regional ADA Center for technical assistance and training for business, government, service providers and people with disabilities.
Provide information, guidance, and training on how to implement the ADA.
Wheeling Township Senior/Disability Services
Wheeling Township Senior/Disability Services offers services for residents 60 and over and people with disabilities 18 and over.