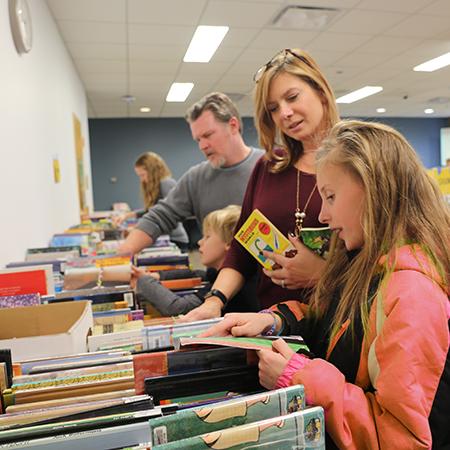 Book sales follow library, local and state COVID mitigation protocols.
The Adult Sale is held in the Hendrickson Room and the Children's Sale is held in the Cardinal Room. The Adult Sale will feature nonfiction and fiction books, DVDs, Blu-Rays, music CDs, vinyl records and audiobooks. The Children's Sale features board and picture books, easy readers, novels and nonfiction. Buy It Now and Auction items will be for sale on the 2nd floor. Auction bidding begins Friday at 6 p.m. and ends Saturday at 2 p.m.
Location: Hendrickson Room and Cardinal Room
The Friends accept credit cards, cash, checks and PayPal. Scanning is not allowed at FOL sales on any device. For the Children's Sale, there will be a 25% teacher discount for teachers with a valid ID. There will be an $8 bag sale on Sunday (no teacher discount).
There are maximum capacity limits in each room. People may need to wait momentarily for others to leave the sale room before new shoppers may enter. Everyone's patience is appreciated.
Upcoming 2022 Sales
Fall Used Book Sale for Adults & Children
Friday, November 4 to Sunday, November 6