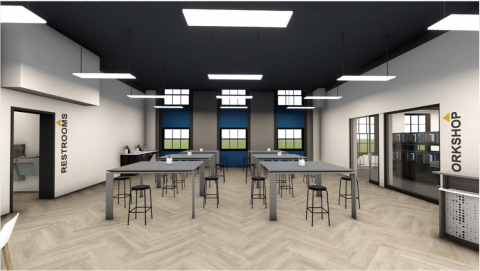 The Makerplace was designed to be flexible to accommodate many different types of programs, events and work areas. The majority of square footage on the first floor is dedicated to two large adjacent and open rooms; appropriately named Flex 1 and Flex 2.
Flex 1 is the largest room in the Makerplace with work tables on wheels and seating to accommodate individuals and small groups. This is the place where makers can gather to work on projects they might not have room for at home, or where they can work alongside other makers in a true collaborative environment. The room is adjacent to the Fabrication area housing the larger maker equipment and includes a sink for easy clean up. Bring your laptop or borrow one of ours to design, tinker and build. Reservations are not needed; work space is available on a first-come, first-served basis when programs are not in session.
Learn more about all equipment available to borrow by visiting our Equipment and Materials page.