Conference Room Guidelines
Facilities
Twelve small conference rooms are available for up to five people.
Two larger conference rooms are available for 6-12 people.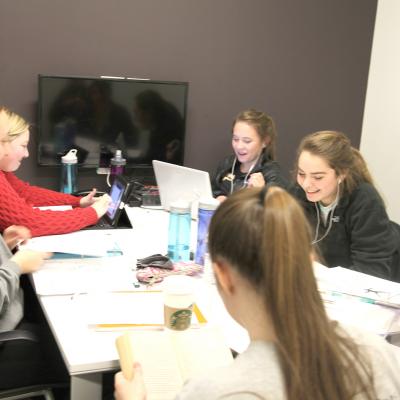 Reservations and Availability
Reservations for 12 small rooms can be made up to one week in advance of the scheduled appointment.
Reservations for two large rooms can be made up to one month in advance for a minimum of six people.
Rooms are available on a walk-in basis, subject to availability.
Identification is required for conference room check-in.
Persons using a room must be of high school age or older, or be accompanied by an adult.
The customer making the reservation must be present in the conference room the entire time.
Walk-in reservations for the two large rooms are for a minimum of three people.
A customer may reserve conference rooms for a maximum of two hours per day. Time may be extended if no one is waiting.
Reservations will be held for 15 minutes past the reservation time before the room is released to another customer.
If customers leave the room for more than 15 minutes, it will become available for others.
Conference room usage is not intended for groups of small children.
Guidelines for Use
The library is not responsible for items left in the room.
Normal conversation levels are to be used in the conference rooms so as not to disturb others.
Covered beverages and vending machine snacks are allowed in the conference rooms.
Reservations are taken at 847-392-0100, the Info Desk, or the second floor desk.
Conference rooms will close at 9:30 p.m. Monday – Friday and 7:30 p.m. on Saturday and Sunday.