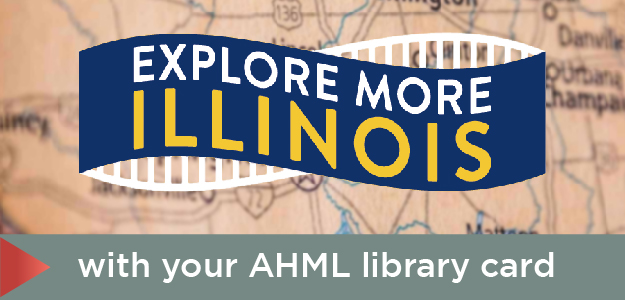 Explore More Illinois services resumed on July 6, 2021. 
What is Explore More Illinois?
Explore More Illinois is a free service that provides instant online access (with your library card) to special offers and discounted tickets to museums and other Illinois cultural attractions. Explore More Illinois can be accessed 24/7 from any computer, tablet or smartphone.
May I use a Pass?
Access is limited to card holders ages 18 and older. Users may choose from passes based on venue and date. A limit of two active reservations are allowed at one time. A photo ID matching the name on the reservation must be shown at the attraction on the day of the reservation.
How do I get a Pass?
Get started at Explore More Illinois Login.  From the drop-down menu, choose the Arlington Heights Memorial Library and enter your library card number. Browse for passes and available offers for the upcoming three months. You can also search for offers by date, attraction name or location. 
How can I make a Reservation?
Reservations must be made for a specific date. Using the calendar, select the date then choose the Reserve option under the attraction. A confirmation box will appear and a confirmation email will be sent. It is recommended to print your pass shortly before your visit. Once you print or download your pass, you cannot cancel your reservation. Two active reservations are allowed per library card. Reservations may be cancelled before they are printed or downloaded. Once you print or download your pass, you can not cancel your reservation, and it remains in active status until after the date on the pass.
What do I need to bring to the attraction on the day of the reservation?
You will need to bring a photo ID and either a smartphone with the pass available on the phone or a printed copy of the pass. Some attractions require a printed copy; this is indicated when you make the reservation.
What attractions are included? (Updated 8/3/2021)
Abraham Lincoln Presidential Library and Museum, Springfield
Anderson Japanese Garden, Rockford
Buffalo Grove Park District Community Arts center, Buffalo Grove
Chicago Children's Museum, Chicago
Edwards Place, Springfield
Ernest Hemingway Foundation of Oak Park, Oak Park
Galesburg Parks & Recreation Lake Storey Beach Boats, Galesburg
Galesburg Parks & Recreation Lakeside Recreation Facility, Galesburg
Galesburg Parks & Recreation Lakeside Water Park, Galesburg
Harris Theater for Music and Dance, Chicago
Illinois Holocaust Museum, Skokie
Kankakee County Museum, Kankakee
Kidzeum County Museum. Springfield
Lincoln Heritage Museum, Lincoln
Lizzardo Museum of Lapidary Art, Oak Brook
Love's Sweet Arrow, Tinley Park
Mary and Leigh Block Museum of Art, Evanston
Museum of Contemporary Photography at Columbia Chicago, Chicago 
Peoria Park District Golf Learning Center & Academy, Peoria
Peoria Park District Owens Recreation Center Ice Arena, Peoria
Peoria Riverfront Museum, Peoria
Raupp Museum, Buffalo Grove
Springfield Art Association, Springfield
Vermilion County Museum, Danville
Wheels O'Time Museum, Dunlap
Note: Participating attractions may change at any time. Visit the Explore More Illinois Login to see current offerings.
Does Explore More Illinois include free or discounted admission to major Chicago attractions?
Popular Chicago museums including Shedd Aquarium, Museum of Science and Industry, Field Museum, Art Institute of Chicago, Adler Planetarium and the Peggy Notebaert Museum are NOT included in the Explore More Illinois program.
Free admission days are offered at many of these attractions. Choose Chicago and Chicago Parent have listed free admission dates on their websites.
For more information or assistance
Please call or visit the library.