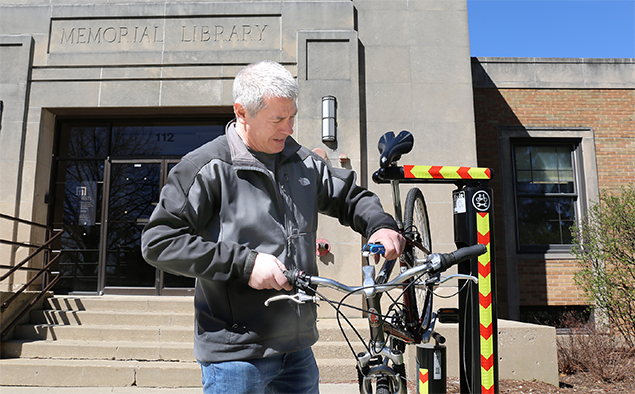 May is National Bike Month! Get your bike ready for the season at the Makerplace! Our new Dero Fixit Bike Repair Station, located right out front of the Makerplace, has all the tools you'll need to perform basic bike repairs and maintenance, from changing tires to adjusting brakes and derailleurs. Place your bike up on the hanger arms and allow the pedals and wheels to spin freely while making adjustments.   
Need air in your tires? Check out the station's convenient Air Kit, which includes a rugged bike pump along with an integrated wheel holder and PSI pressure gauge.  
The Fixit Bike Station is fully DIY, and there are QR codes on the equipment that will connect you to training materials for more detailed information. The Makerplace is located at 112 N. Belmont Avenue, at the corner of Belmont and Miner—right across from Recreation Park. 
Plus, if you're looking for inspiration about biking or where to ride next? Stop by our Spotlight On the Collection book display located on the first floor of the main library. The National Bike Month display includes bike-themed fiction and nonfiction books, movies and more. 
Happy Trails!