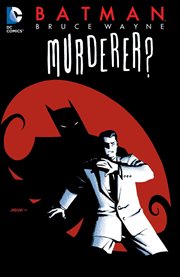 Batman, Bruce Wayne--murderer?
(2014)
Fiction
Details
PUBLISHED
[United States] : DC Comics : Made available through hoopla, 2014

ISBN/ISSN
9781401251062 (electronic bk.) MWT11761936, 1401251064 (electronic bk.) 11761936
NOTES
Every man has a breaking point. Batman has just reached his. he is found with the dead body of Vesper Fairchild in his arms, it looks like Bruce Wayne has finally snapped. Arrested and imprisoned for murder, alienated from all whom he has ever called an ally, he stands poised to lose his own identity to the specter of his dark knight counterpart--Batman! It falls to his family--Nightwing, Robin, Oracle, Batgirl, Spoiler and Alfred--to find out who really committed the murder. All the evidence points to someone setting Batman up... but it could also be pointing squarely at Batman's own guilt. BATMAN: BRUCE WAYNE - MURDERER? features story and art from some of DC Comics' top talents including Chuck Dixon, Ed Brubaker, Greg Rucka, Devin Grayson, Kelley Pluckett, Scott McDaniel, Rick Burchett, Trevor McCarthy, Damion Scott and more! Collects some of the most groundbreaking Batman stories in BATMAN 10-CENT ADVENTURE; DETECTIVE COMICS #766-767; BATGIRL #24, #27; NIGHTWING #65-66, #68-69; GOTHAM KNIGHTS #25-28; BIRDS OF PREY #39-41, #43; ROBIN #98-99; BATMAN #599-602. Concluded in the next volume, BATMAN: BRUCE WAYNE - FUGITIVE!
Mode of access: World Wide Web
Additional Credits
Additional Titles
Related Searches
Leave a Review