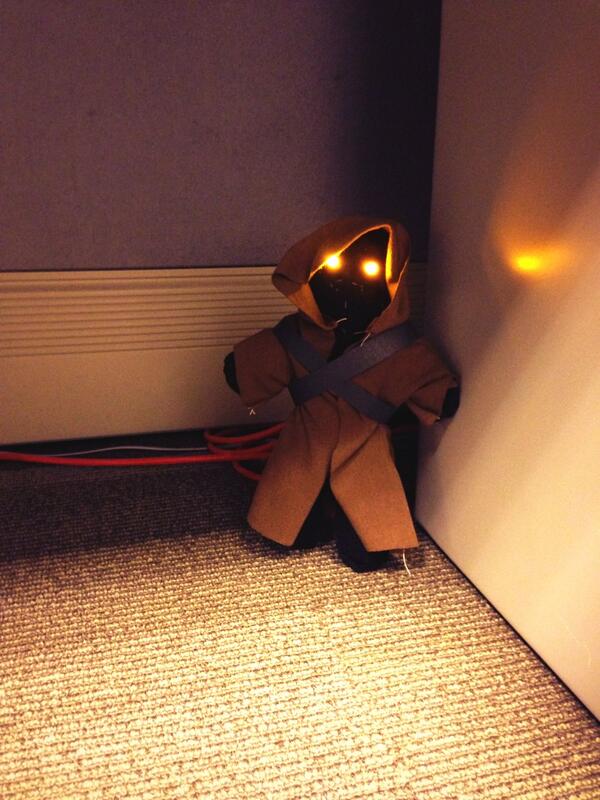 Last Saturday, May the 4th (be with you), was National Star Wars Day. In celebration, the HUB had a program where we learned about basic circuitry and made jawa figurines with light-up eyes. I promised to post instructions for those that weren't able to finish during the allotted time - threading conductive thread into the eye of a needle is difficult! If you didn't attend and want to make your own jawa with light-up eyes, I modified
this build
to accommodate budget and length of the program. Please feel free to stop by the HUB if you have any questions or need help with your jawa!
Using conductive thread, sew the positive wire. Make sure you are sewing the LEDs on the inside of the figurine. In the diagram below, it's shown as "+" signs.
Once your wire is below the battery access slit, attach the battery holder by sewing through the copper positive terminal.
Next, sew the short negative wire, shown as "-" signs and highlighted in the diagram. Begin at the copper negative terminal on the battery holder. The end of the wire should be on the front side of the figurine (opposite the battery holder).
Now, sew one part of the metal snap using the conductive thread. This will serve as the switch for the jawa's eyes.
You will now sew the other negative wire, also shown as "-" signs and highlighted. Begin by sewing the other part of the metal snap switch to the flap on the front of the figurine.
Insert the battery into the holder and test the LEDs to make sure that your circuit is complete and not shorting out.
If the eyes light up, sew most of the jawa body closed around the outer edges of the figurine. Leave a small opening so that you can stuff the figurine with polyfill.
Stuff the jawa and sew the small opening closed.
Put the robe on your jawa. Tape the black construction paper around it's body to hold the robe closed and serve as his equipment belt.
Submitted by Trixie on Thu, 05/09/2013 - 4:15pm