Families learn about space travel and art with author Dean Robbins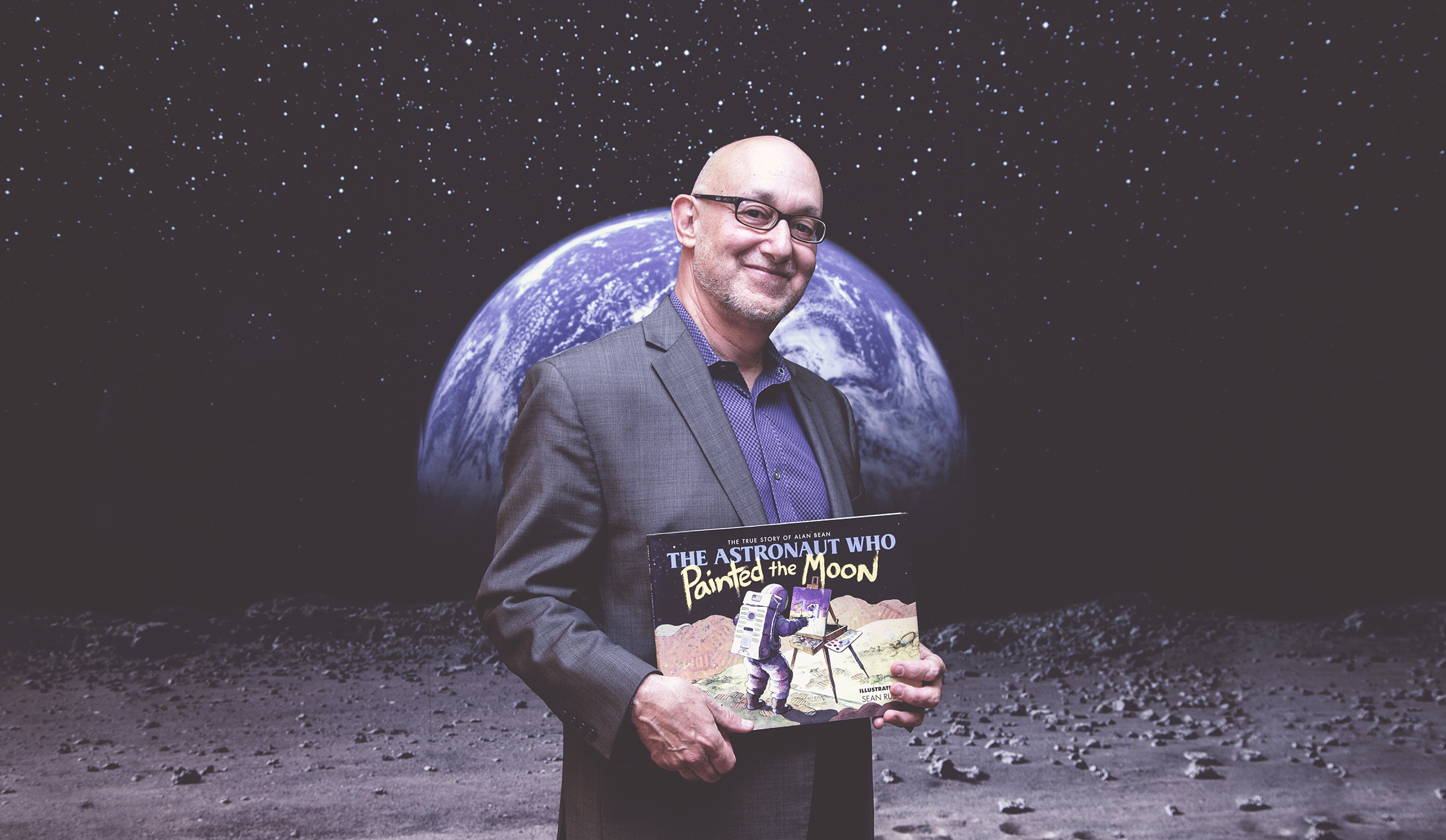 "An artist who goes to the moon does the same thing as an artist on Earth," said picture book author Dean Robbins during his visit to the library on Monday, August 5. "They create art to show the world how they feel."

Robbins is the writer of The Astronaut Who Painted the Moon, which tells the story of Alan Bean, the only artist to travel in outer space during the 1969 Apollo 12 mission. His lively presentation not only stressed the significance of space travel, but also the important role art can play in helping someone express themselves.
He started the morning by talking about the life of Alan Bean, who began his career as a pilot for the U.S. Navy before being selected as a NASA astronaut. Robbins encouraged interaction throughout his presentation by asking younger audience members to describe terms like spaceship and the moon in their own words, using humor by showing funny photos of animals in space, and asking the crowd to repeat phrases such as: "An artist looks. An artist feels. An artist creates!"

Robbins then led a space countdown before reading his picture book The Astronaut Who Painted the Moon. After his reading, Robbins talked about his own life and answered audience questions.

"I wanted to be a brave pilot just like Alan Bean," he said, recalling his passion for flying at a young age. His attempts at creating model airplanes and drawing airplanes were unsuccessful, and he soon discovered he had a fear of flying as well. Once he realized he had a passion for creating stories, he continued to write, eventually developing a career in journalism before turning to picture books.

"I wrote Alan Bean a letter so I could write a book about him for kids just like you," Robbins said. After completing his book, he was able to send a copy to Alan Bean, who responded with high praise.
Following his presentation, Robbins talked with fans and signed copies of his books. Meet Picture Book Author Dean Robbins was one of many space-themed events to take place throughout the summer at the library including
Earth from Space,
an exhibit on the library's first floor that ran June 21- August 11. For more information, visit
www.ahml.info/summer
.