Students see their work on display at the District 25 Student Art Show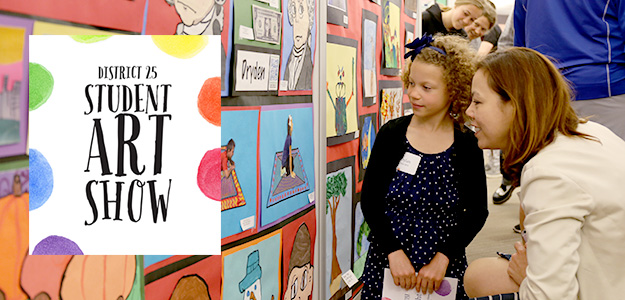 More than 800 people including parents, students, teachers and community members stopped by the library's Marketplace on Thursday, May 3 to celebrate the opening of the 26th Annual District 25 Student Art Show.
The opening night reception featured a performance from the South Middle School Jazz Ensemble, a reading of Charlie Parker Played Be Bop by Chris Raschka, a short film screening from the fifth grade students of Dryden Elementary School and plenty of refreshments.
This year's show featured the artwork of nearly 400 students from seven elementary schools and two middle schools that can be seen in the Marketplace, the Dunton display cases and the Kids' World display cases.
These pieces ranged from 2D illustrations to 3D sculptures and were on display in the library through Sunday, May 27.