Remembering Dr. King: Community brings mural to life on MLK Day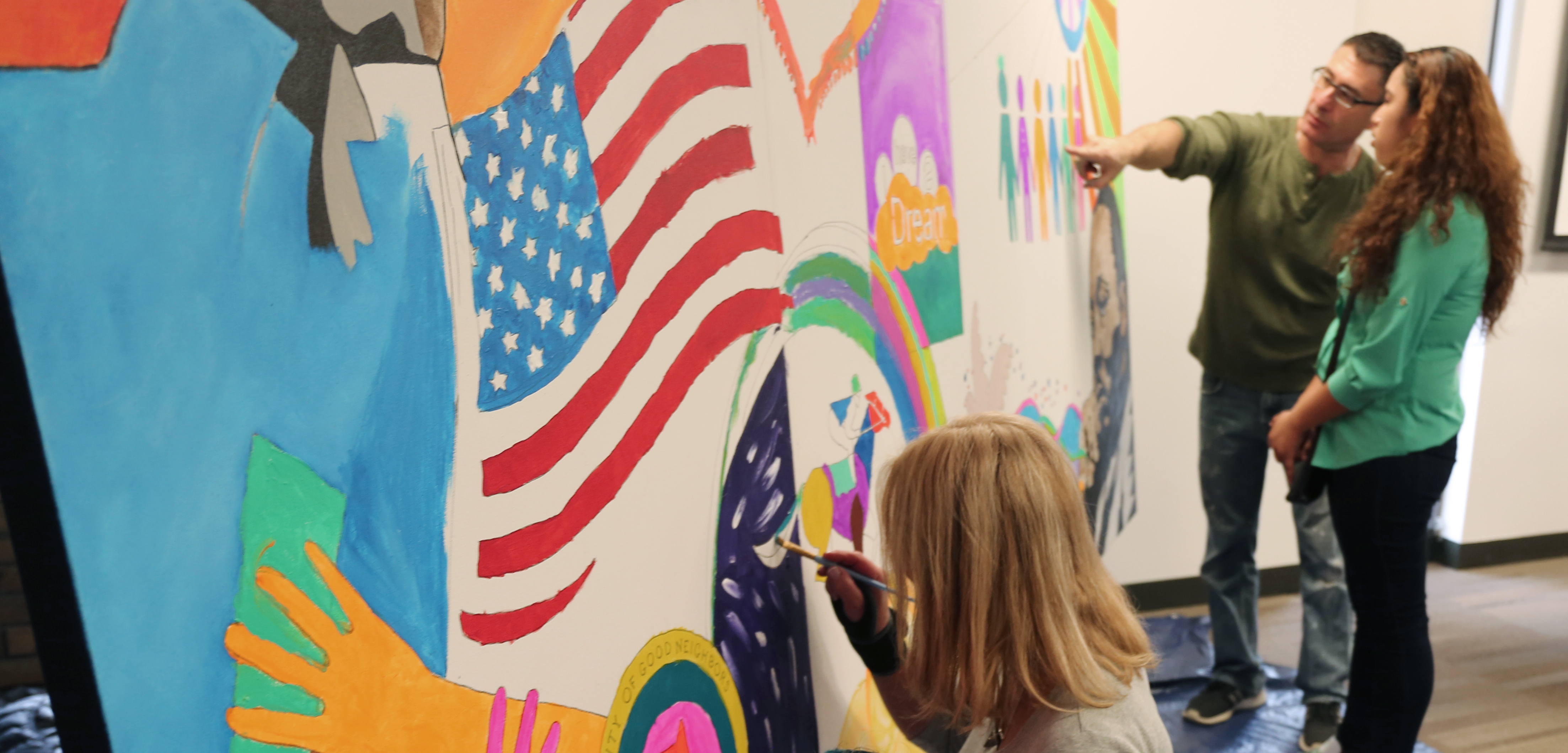 Close to 100 Arlington Heights residents and students from the High School District 214 Newcomer Center experienced the art of community service on Monday, January 15 by working together at the Arlington Heights Memorial Library to create a large three-panel mural honoring the legacy of Dr. Martin Luther King, Jr. Under the guidance of renowned local artist Gino Savarino, participants of all ages gathered in the library's Cardinal Room to paint during one of the three 90-minute sessions.
"It's like a giant coloring book, just paint and stay in the lines," said Savarino as he welcomed participants. "I'll be there to guide you every step of the way."
Throughout the day, participants took turns applying bright swaths of color and painted side-by-side, filling in the canvases that were designed by Savarino to convey a pop art feel and include images that reflect Dr. King's legacy and symbols of Arlington Heights.
"The goal was to provide an opportunity for the community to come together to honor Dr. King's legacy and to work together to create something that will be a lasting legacy," said Angela Jones, the library's Community Engagement Liaison.
Among the participants were 25 students from the Newcomer Center, District 214's facility that prepares students who are new to the United States to successfully transition to their home high schools. The students, both current and former, represented five countries.
"What are your dreams for the future?" asked Newcomer Center Coordinator Mario Perez to the students and residents who gathered. Perez, one of the event organizers, encouraged students and residents to share personal experiences and family stories of immigration in small group discussions between painting sessions.
"Being able to participate in something where you are part of the whole is so important," said Arlington Heights resident Julie Kurka, who brought her 11-year-old sixth-grader to the library to paint on her day off of school. "Rather than just doing for yourself, it's nice to do more and give back."
The completed mural was on display in the library during February and will eventually be permanently hung at the Newcomer Center, which is housed at the Forest View Educational Center in Arlington Heights. The event organizers plan to bring the mural to local schools and other community locations in the coming months. Watch the video below to see the mural coming together.