Author Laura Numeroff shares stories and meets fans at the library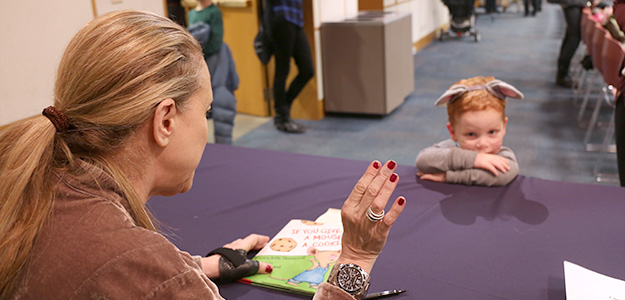 "Here's where it all began, at the library. That's why I'm able to stand where I am and share my passion for books," said New York Times bestselling author Laura Numeroff, known for books such as If You Give a Mouse a Cookie, Raising a Hero and What Mommies Do Best/What Daddies Do Best.
Numeroff spoke to an audience of over 200 adults and children in the library's Hendrickson Room on Sunday, November 12. She showed some of her favorite books (Harry the Dirty Dog, Eloise, Stuart Little), talked about her early life, showed her favorite pages from her books and answered questions during a Q&A session.
During her appearance, Numeroff read If You Give a Mouse a Cookie, which led to laughter and amusement from the crowd.
She also read her book Raising a Hero, which tells the story of a puppy training to become a service dog. The book is a part of her new series, Work for Biscuits, which tells the stories of dogs who have jobs.
Canine Companions for Independence
(CCI) brought along several service dogs in training to the event. One dog named Danica went on stage to show attendees how it is trained to pick up medicine if it falls on the floor. Numeroff later told the audience that a dollar from every copy of
Raising a Hero
that is purchased will be given to CCI.
After reading her stories, she shed some light on the inspiration behind her other work.
"One day I saw a Dalmatian and I just got an image in my head, wouldn't that dog look funny in red sneakers?" she said as she talked about her book Dogs Don't Wear Sneakers. Other works she talked about include Sometimes I Wonder If Poodles Like Noodles, Laura Numeroff's 10-Step Guide to Living with Your Monster and Ponyella.
After the event, the library celebrated the work of Laura Numeroff in Kids' World. Many fun activities were available for children such as arts and crafts based on books like If You Give a Pig a Pancake, beanbag tossing games, a scavenger hunt and a meet-and-greet session with the mouse from If You Give a Mouse a Cookie.