Register to vote! Drop in, get registered and ask questions-July 16 and 18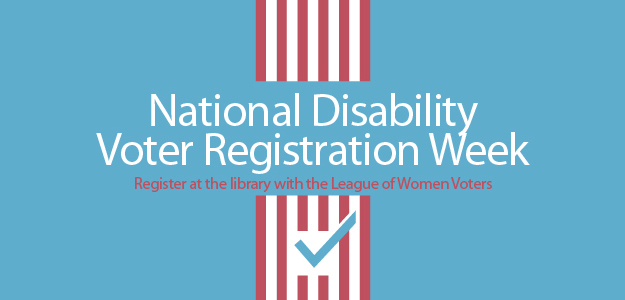 We are proud to partner with our local League of Women Voters, EveryLibrary and libraries across the country to support voter registration services for disabled communities during National Disability Voter Awareness Week.
The League of Women Voters will be on site to register voters and answer questions. Stop by the table, located near the Info Desk on the main floor of the library, during one of two times:
Monday, July 16, 6-8 p.m.
Wednesday, July 18, 11 a.m.-1 p.m.
Anyone who would like to register to vote is welcome.
To register to vote, you must be:
1. A U.S. citizen
2. At least 18 years old by the general election
3. A resident of your precinct at least 30 days prior to Election Day
Two pieces of identification are required, and one must include your current address.