Bill Pardue Named Library "Mover and Shaker"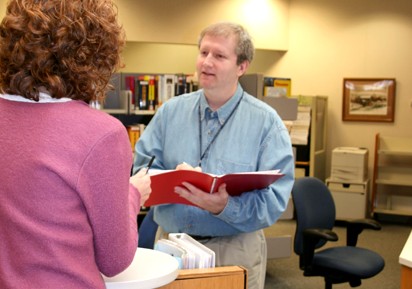 Arlington Heights Memorial Library is proud to have one of its own named one of Library Journal's "Movers and Shakers of 2011." Reference and Virtual Services Supervisor Bill Pardue (seen above) was recognized as a "change agent" for his innovative work with virtual reference and his initiative encouraging librarians to log onto Q&A websites to respond to questions.
Bill is one of only 50 librarians from the U.S., Canada, Australia, Singapore and the UK to receive this honor. Congratulations, Bill!
Got a question you need answered? Ask Bill or any of our knowledgeable reference librarians. Contact us online by clicking on the chat box to the right, call us: 847.392.0100, or text us: 847.701.4275.