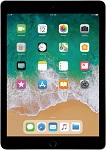 IPad
(Equipment)
Available
(1 hold on 4 copies)
| Location | Call Number | Item Status |
| --- | --- | --- |
| Tech Learning Center | iPAD | Due 03-31-19 |
| Tech Learning Center | iPAD | Available |
| Tech Learning Center | iPAD | Available |
| Tech Learning Center | iPAD | Due 03-31-19 |
Published:
California : Apple, 2017
Description:
Tablet, box, Wall Charger, case
Language:
English
Replacement cost: ipad, $350 / box, $50 / Wall Charger, $15 / cord, $5 / case, $20
iPad for Arlington Heights residents only.
Check out an Apple iPad—with this tablet you can try out apps and games, stream music and video, read books, browse the Internet and more!
Related Searches:
iPad (Computer)
Tablet computers
Kids' World Things -- Technology
Additional Credits:
Login to write a review of your own.
Login
to add this item to your list.
Lists can be used to compile collections of items that you may be interested in checking out at a later date. You may also create public lists and share your favorites with other AHML customers.
No tags, currently.
Login
to add tags.
To create a multiple word tag such as Science Fiction, enclose both words in quotes, like: "Science Fiction"