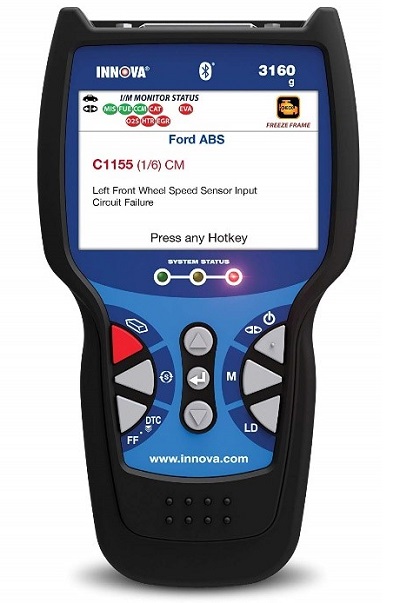 Auto Scanner
(Equipment)
Call Number
LIBRARY OF THINGS/AUTO
All Copies Checked Out
(0 holds on 1 copy)
| Location | Call Number | Item Status |
| --- | --- | --- |
| Marketplace | LIBRARY OF THINGS/AUTO | Due 01-25-19 |
Description:
3160 ABS/SRS + Scan Tool CanOBD2, OBD2 (DLC) Cable, booklet, case
Language:
English
Replacement cost: Scanner $199.00 ; OBD2 (DLC) Cable, $35.00 ; booklet, 5, 5.00 ; case, $20.00 .
"Diagnoses OBD2 all 1996 and newer Domastic, Asian, and European. ABS + SRS faults most of 1996 and newer GM, Ford, Toyota, Honda & Chrysler vehicles."--box
"Diagnoses ABS & SRS codes on most 1996 and newer GM, Ford, Chrysler, Toyota and Honda vehicles. Provides SAE enhanced Live Data – views, graphs, records, and plays back live PCM data streams on screen Professional OBD2 Generic Scan Tool for all 1996 and newer cars, light trucks, and SUVs – Domestic, Asian and European Import Features unique patented all-in-one backlit screen and LED display for quick State Emissions readiness check and drive cycle verification."--Web site for equus
"Retrieves OEM Enhanced and Transmission DTCs Communicates with all OBD 2 protocols: C.A.N. (Controller Area Network), ISO 9141, J1850PWM, J1850VPW, KWP 2000 ISO 14230-4 Displays OBD2 Freeze Frame Data & turns off check engine, ABS & SRS lights Includes Spanish and French Interface & Definitions (selected by a menu command) Retrieves OBD2 DTCs: Generic Codes (P0, P2, P3, and U0) / Manufacturer Specific Codes (P1, P3, and U1). "--Web site for equus..
Related Searches:
Automotive computers.
Automobiles -- Maintenance and repair -- Equipment and supplies.
Automobiles -- Safety appliances -- Testing
Library of Things
Library of Things -- Technology
Library of Things -- Home
Library of Things -- CS
Additional Credits:
Innova Electronics Corporation
Login to write a review of your own.
Login
to add this item to your list.
Lists can be used to compile collections of items that you may be interested in checking out at a later date. You may also create public lists and share your favorites with other AHML customers.