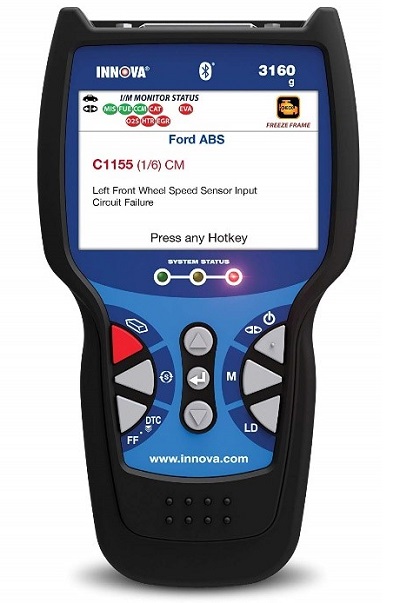 Car Scanner
(Equipment)
Call Number
LIBRARY OF THINGS/CAR
All Copies Checked Out
(1 hold on 1 copy)
| Location | Call Number | Item Status |
| --- | --- | --- |
| Marketplace | LIBRARY OF THINGS/CAR | Due 04-27-19 |
Description:
3160 ABS/SRS + Scan Tool CanOBD2, OBD2 (DLC) Cable, booklet, case
Language:
English
Replacement cost: Scanner $199.00 ; OBD2 (DLC) Cable, $35.00 ; booklet, 5, 5.00 ; case, $20.00 .
AHML cardholders only
Innova 3160: Automotive Diagnostic OBD2, SRS, ABS Scanner. For auto technicians and those who wish to troubleshoot their own vehicles.
Diagnoses ABS and SRS codes on most 1996 and newer GM, Ford, Chrysler, Toyota and Honda vehicles. Provides SAE enhanced Live Data—views, graphs, records, and plays back live PCM data streams on screen Professional OBD2 Generic Scan Tool for all 1996 and newer cars, light trucks, and SUVs: domestic, Asian and European imports. Features unique patented all-in-one backlit screen and LED display for quick State Emissions readiness check and drive cycle verification.
Related Searches:
Automotive computers.
Automobiles -- Maintenance and repair -- Equipment and supplies.
Automobiles -- Safety appliances -- Testing
Library of Things
Library of Things -- Technology
Library of Things -- Home
Library of Things -- CS
Additional Credits:
Innova Electronics Corporation
Login to write a review of your own.
Login
to add this item to your list.
Lists can be used to compile collections of items that you may be interested in checking out at a later date. You may also create public lists and share your favorites with other AHML customers.